An Intelligent Connected Experience
Image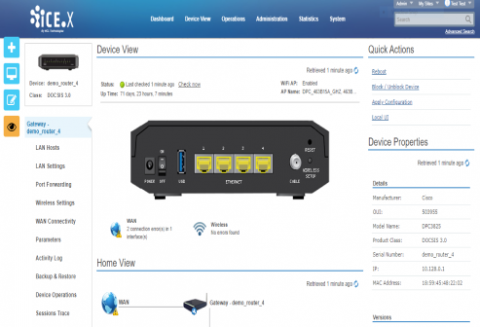 In today's connected world, the growth of complex connected devices accelerates daily. Global organizations across telecom and other industries are adopting solutions that simplify management across the connectivity and device layers supporting multiple user needs.
HCL iCE.X (Intelligent Connected Experience) – is a smart, secure, and scalable platform to enhance customer experiences in the connected world. It is a cloud-ready, carrier-grade, vendor agnostic intelligent device management platform that manages millions of diverse devices using TR-069 and other Smart Home protocols. And the platform manages the complete life cycle of devices while providing the operational capabilities to efficiently optimize the end-user experience.
Next-generation Auto Configuration Server (ACS) functionality that enables zero-touch deployment of devices
Microservices-based architecture enables ease of deployment on-premise or in private/public cloud environments.
Supports multi-domain and multi-standards-based connectivity protocols
Real-time insights to enhance operations and accelerate issue resolution
Business Benefits
Image

Effective
Life cycle device management
Optimized operations
Enhanced quality of service
Improved time to market
Image

Productive
Reduced truck rolls
Reduced call volumes
Complete home analytics
Remote actions
Image

Innovative
Micro-service architecture
Flexible deployment options
Device agnostic
Advanced feature sets
Key Features
Device Management
Customer Care
Analytics
A carrier grade feature rich TR-069 Auto Configuration Server (ACS)
A carrier grade feature rich TR-069 Auto Configuration Server (ACS). iCE.Manage serves as a core engine for managing the entire device lifecycle.
TR-069 ACS manages varied devices at scale
Supports all Broadband Forum Data Models
Multi-protocol support for non-TR-069-based deployments
Over 300+ device models supported "out of the box"
Intuitive interface enables simplified platform interactions
Intuitive interface enables simplified platform interactions across network operations, deployment administration, customer support, and IT departments. This cross company view quickly enables customers to solve problems that impact business performance.
Real-time and historical complete home network view of WAN and LAN connections
Configurable interface to design around the needs and roles of end-users
Visual representation of physical devices e.g., connections, ports
Detailed LAN host information
Alerts by device and location
Leverage insights from device data
A flexible and configurable analytics and visualization platform to leverage the insights provided from device data collection. This capability enables CSPs to identify, diagnose, and solve customer impacting problems reactively and proactively.
View operational reports including device changes, inventory, deployments, device types and software release information
Support unique business requirements with customizable Machine Learning(ML) based self-healing
Highlight Quality of Service delivery levels via a dashboard
Create Custom alerts, alarms, and cross device alerts