A year ago, we launched the HCL IntelliService platform to help contact centers optimize their services using historical data and automation. Built on top of our core natural language processing and machine learning technologies, HCL IntelliService analyzes massive amounts of data to uncover the information service agents need to assist their customers.
Since then, we have helped after-sales service business units drive faster ROI in their transformation projects with conversational support and features like our connector framework for ingesting all relevant data from across the organization. Multilingual support for up to 18 languages helps our customers "glocalize" chat as a support channel in their omnichannel service operations.
Now, we're launching additional capabilities, including intelligent triage and a unified search console, to give agents the insights they need to make near-perfect decisions with imperfect data.
Enable data-driven decision-making with intelligent triage
Intelligent triage helps after-market organizations reduce knowledge gaps during service operations. By automatically extracting and mapping symptoms, root causes, recommendations and associated costs into every problem ticket, intelligent triage allows more first-line agents to answer challenging questions and increase first call resolution. You can learn more in our eBook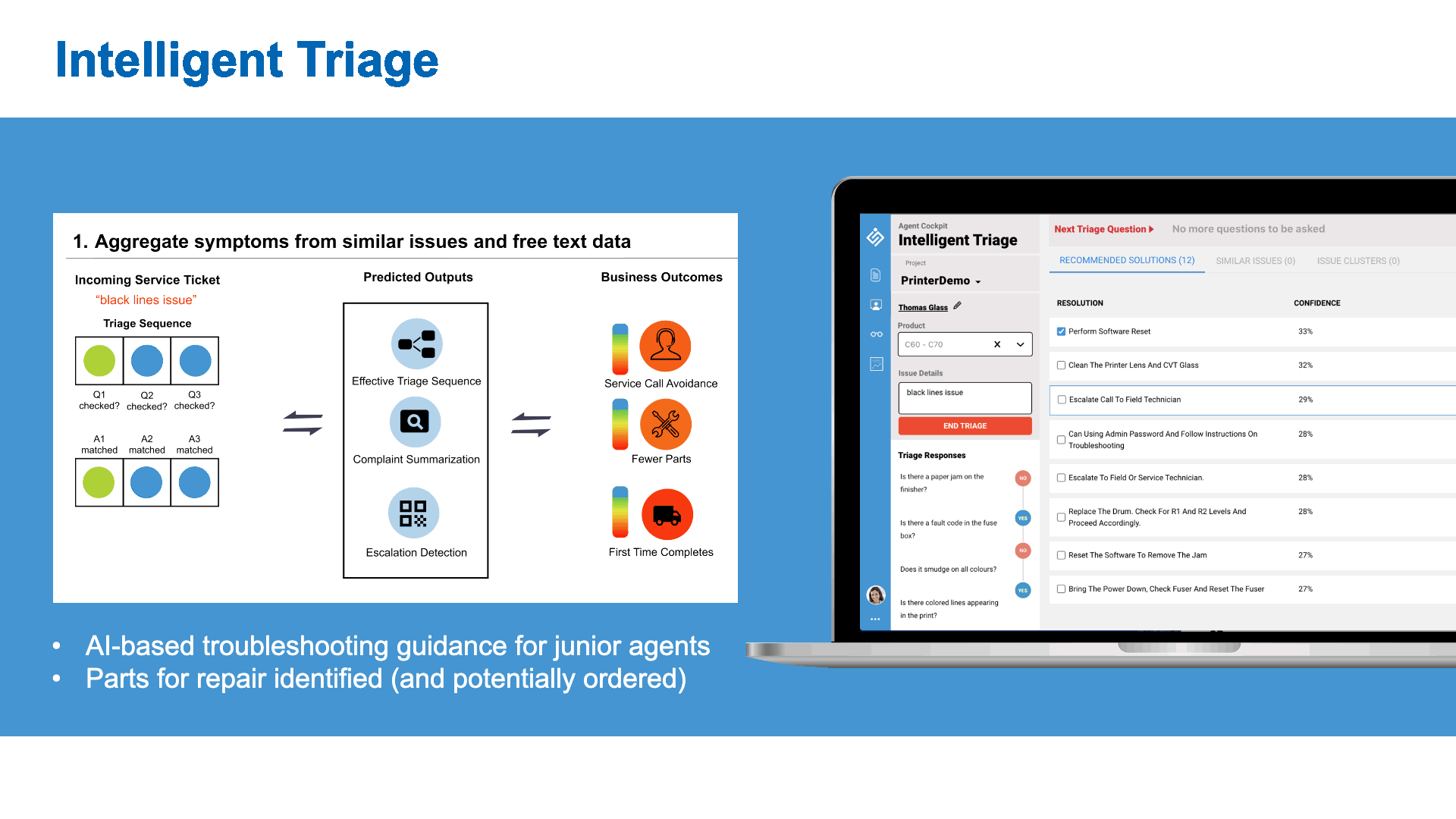 Leverage the power of AI for search
The unified search console is what we refer to as the agent cockpit – a single pane of glass view to gain business and ticketing intelligence. Customer service representatives are able to act quickly on open tickets, find product service history, search for symptoms, gain intelligent triage-based guidance, get help from the built-in virtual chat agent, identify associated parts required for the service and find relevant knowledge articles so they can respond to customers over connected channels.
In addition, we now offer the cognitive search capability packaged as a separate module, Intelligent Search, with a dedicated roadmap of its own. Business application owners can enhance the search experience for their users by leveraging our core knowledge mining capability. Learn more about Intelligent Search capability and download our solution brief"
IntelliService success story: HCL's Enterprise Virtual Assistant
Proof to the pudding is our success with EVA, HCL's enterprise virtual assistant for IT- and employee-related services. With the recent platform upgrades to IntelliService, EVA monthly usage increased by 40%, averaging 120,000-plus conversations per month. Thanks to the new cognitive models, solve rates and positive feedback responses increased by 18%. In total, EVA has optimized the user experience of 186,000-plus employees who can now get quick and precise answers to frequently asked questions regarding HCL applications, transactions, systems and processes. EVA handles over a million conversations every year, transacting with 45-plus connected enterprise applications.
We are only at the beginning of what is possible in service desk innovation. We'd be thrilled to share our roadmap with you. Reach out to usask.intelliservice@hcl.com at to learn more.