When thinking about the next impactful subject matter for a blog series, I was torn between a couple of topics. It was then that I had a customer meeting with a manufacturing company with a legendary brand. Upon digging into the use cases and systems, I came to realize how their technology had not changed in quite a long time, and how much they could benefit from AI. It was a veritable smorgasbord of possibilities!
It was at that point that I thought I would use this blog series to raise awareness of the application of AI and ML strategies in the manufacturing space - specifically regarding the operational costs of managing the service of a durable goods product. We will take a look at the traditional processes and associated deficiencies and reimagine them with AI injected into the workflow. This space is typically a late adopter of technologies like AI because of thinner margins and higher learning curve, however, with the advancement in AI and wide adoption in other service line spaces such as IT service management (ITSM), it bears another look.
Defining the target industry
Let's establish to which industry verticals this information applies. First and foremost, the organization should have a product that is subject to service after the sale. This can be through warranty or not and can include onsite service or return merchandise authorization (RMA) repair or replacement services. This profile fits well with durable goods, and there are many services that also qualify nicely to this such as Digital Service Providers (DSPs), Travel and Hospitality, software.
Product profiles
Generally, the products that benefit most from an AI-based approach to service management are those that either causes monetary loss or significant customer impact by being offline or in disrepair. Whereas time becomes a significant factor that will directly affect customer satisfaction and brand loyalty. A few examples such as Home and industrial large appliances, Printers, Elevators, Tools (especially commercial tools), Building subsystems (security, HVAC, fire suppression), Commercial vehicles, rental equipment, utility delivery (power, telecom, internet), property management (rental, vacation, resort, etc).
Primary cost contributors
Another way to qualify applicability is to look at the cost contributors from a service perspective. Here are a few examples:
Warranty service (cost center)
Field Service (for non-portable products)
Limited self-installation and self-service support infrastructure
Excessive parts usage and wear replacement
Large call center support centers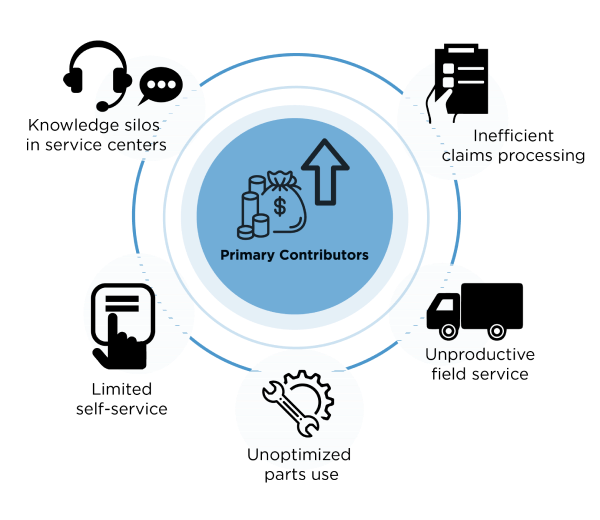 Typical Processes and Associated Costs
The traditional natural process of servicing any given product usually falls into four subsequent steps, of which the first three are visible to the customer. With that said, the first, Customer Education, is proactive and requires active participation from the customer, which often does not happen. This automatically forces this process into a reactive posture that is initiated by an incident that the customer is experiencing with the product. With durable goods, typically 65% of the time, the incident is covered by the manufacturer's warranty and thus is a complete cost center for the manufacturer. In the worst cases of large manufacturers with non-portable durable goods such as appliances or installed products, this could result in hundreds of millions of dollars in service activities and replacement parts, not to mention the brand damage and reduced customer satisfaction. Let's take a closer look at this process and its associated deficiencies.
Customer Education
As mentioned, customer education is a proactive effort to encourage customers to both understand how to operate and use their product, as well as how to maintain their product to avoid malfunction and potential warranty violation. It is highly dependent on customer participation. This process usually begins with registering the product, which historically has been a huge challenge within the industry. After all, the last thing on a consumer's mind when receiving and opening their shiny new widget is to go online and register the product – or even worse, fill out a registration card and remember to drop it in the mail! Without this step, the manufacturer will not know who the customer is who purchased the product until a problem arises.
Product Documentation
With registration numbers low, this leaves the most obvious choice: lots of customer-accessible documentation. Typically, some of this is provided with the product, but these days they are usually disseminated on the manufacturer's consumer website in the form of KBs, digital manuals, and moderated community groups. For the digitally-minded consumer, this is the most effective form of customer care and up-to-date outlet for all things concerning their product. Searching this documentation might serve as a first step to try and self-diagnose an issue and potentially repair it while hopefully not voiding their warranty!
Stay tuned, because next week we will talk about the next step in the traditional process map, which is Support Desks – and we have a lot to discuss there!