HCL After-Sales Overview
Image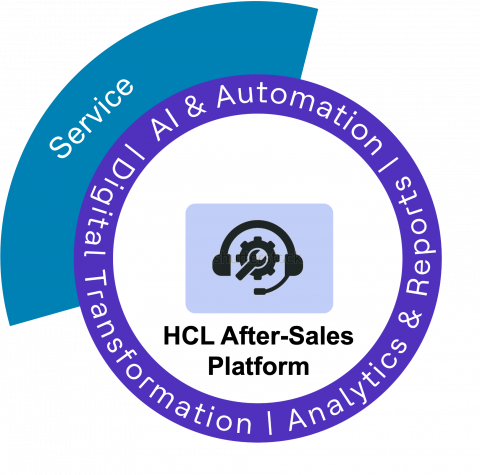 With HCL After-Sales Platform for Service, OEMs and brands get a fully capable service management solution that goes far beyond a standard field service management application. HCL After-Sales is optimized to meet demands for remote customer service, workshop service, and field service by making it easier to effectively manage remote resolves. The platform architected to work out-of-the-box, boasting fast implementation and minimal costs for customization.
72%
Reduced Direct Calls to Field Engineers
125%
Increased Machine Utilization
57%
Increase in Service Revenue Realization
Solutions for Service Management
Deliver highly-efficient onsite service to customer locations that improves field operations, resource management, and inventory management while increasing first-call effectiveness and other top line metrics.
Bay Scheduler & Management
Eliminate inefficiencies at your workshop with the only service lifecycle management solution that tracks workshop capacity and technician activity.
Increase the efficacy of issue resolution without having to send a technician using AI-based diagnostics flow and repair assistance
Leverage incorporated best practices to manage contracts and end-to-end warranty services.
Give technicians the ability to see exactly what your customers see with a live video troubleshooting session, eliminating the need to send valuable experts on the site.
AI-based Virtual Assistant
Deliver answers more quickly and improve customers' experience with an automated virtual assistant that queries disparate backend systems to find answers to questions.
Deploy to the Cloud in Minutes with HCL Now
Any organization can realize the benefits of cloud-native
Not convinced? Try our outcome-based white-glove services offerings.
40 min free business value assessment
Get Unparalleled Support & Expertise
· Chat, phone & email support