150+
Successful Digital Transformation Projects
30+
Years Of Aftermarket Domain Expertise
Access a full suite of service and spare parts management systems and tools from one platform.
HCL Software's After-Sales Platform for parts and service management is custom designed to bring the systems and tools needed to meet your organization's unique needs. Purpose-built for the aftermarket market service lifecycle, HCL After-Sales Platform helps everyone from technicians to sales managers efficiently meet customer demands. This fully-loaded service lifecycle management solution includes a range of tools, such as augmented reality (AR) based remote assistance and better inventory planning tools.
HCL After-Sales delivers all of these capabilities to enable you to accelerate your critical success factors—first contact resolutions, remote resolve rates, contract profitability, mean time between failures (MTBF), equipment uptime, and turnaround time—in every stage of aftermarket operations.
Digital Transformation Made Possible with HCL After-Sales Platform
Transforms your aftermarket service lifecycle across every category.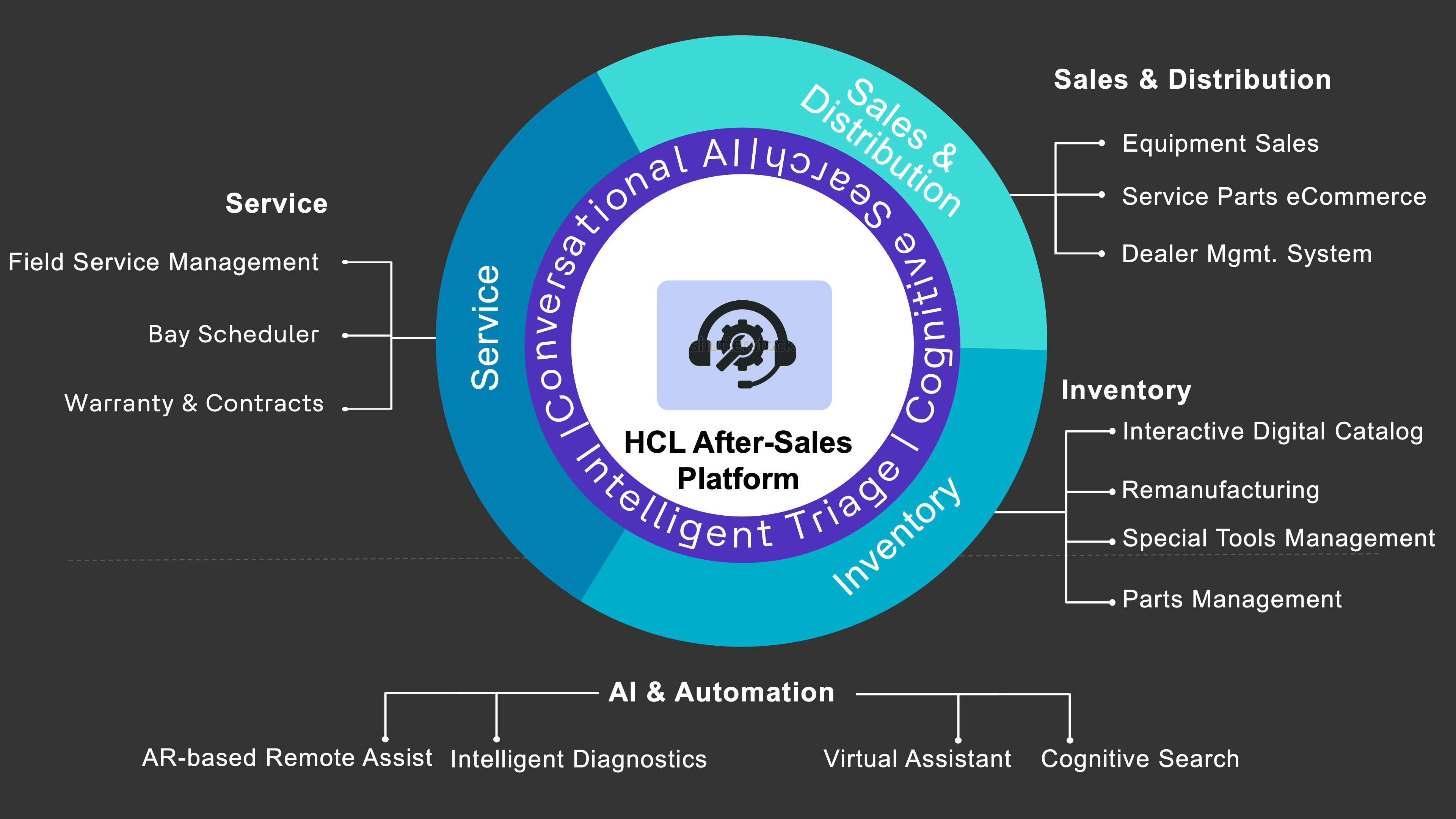 HCL After-Sales Solutions for Your Aftermarket Service and Spare Parts Business
Our platform is fueling the after-sales
organizations in every industry
Image

Industrial Equipment
Image

Transportation
Image

Construction & Mining
Image

Energy, Utilities & HVAC
43,564
Transacted Customers
1.1M
Service Orders Fulfilled
470K
Sold Parts and Services
57,618
Installed Base Served
Deploy to the Cloud in Minutes with HCL Now
Any organization can realize the benefits of cloud-native
Not convinced? Try our outcome-based white-glove services offerings.
40 min free business value assessment
Get Unparalleled Support & Expertise
· Chat, phone & email support